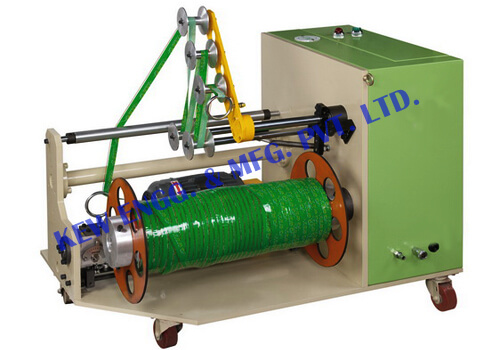 Trim Rewinder is used for any winding & unwinding application for guiding the web to reduce the wastages of the material & to get high production output with minimum man power.
KEW ENGG. & MFG. PVT. LTD.  have been manufacturing, exporting and supplying high quality and simple Trim Rewinder Machine. Designed with basic features like easy to use, effectively and efficiently for better profitability. Heavy Duty equipments for high durability.
Standard Features
Trim Rewinder
Parameters:
Operation material film/aluminum foil/ paper
Side material width 2-20mm
Material roll width 420mm
Max roll diameter 500mm
Operation speed 5-250m/min
Basic Features:
User Friendly
High quality equipment
Designed for Heavy Duty Process
Auto tension control Unit
International Standard quality with power saving feature
Quick react to speed change
Suitable for high speed side trimming requirement
Auto speed control according to machine speed
VARIOUS TYPES 
1) Standard Features:
Fully mechanical controlled traversing.
Trapezoidal (Pineapple) winding profile.
Cantilevered winding shaft.
Closed loop speed control.
Traverse winding.
Variable traversing rate.
Quality engineered and manufactured.
Save your Electricity.
Keep your floor clean.
2) Optional
Pull roll for constant pull during roll change.
Winding to minimize waste.
Winding of 2 trims on one winder.
Winded roll use for making rope.
Adjuster – 1 pcs.
Air Filter – 1 pcs.
Oil Filter – 1 pcs.
Hydraulic Cylinder size 6" strock – 1 pcs
Technical Specification
| | |
| --- | --- |
| Trim Width | 5 to 60 mm |
| Web Thickness | 10um to 1mm |
| Package Diameter | 350 mm |
| Package Width | 350 mm |
| Core Diameter | 100 mm |
| Maximum Speed | 500 m/min |
Video