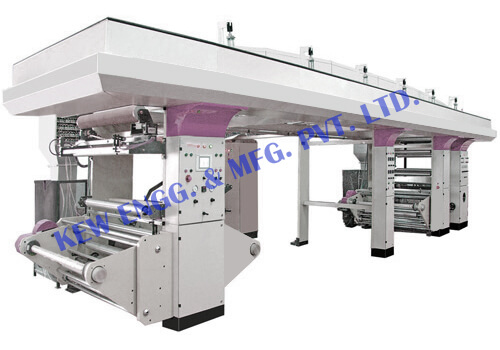 KEW ENGG. & MFG. PVT. LTD. India, a leading manufacturer, exporter and supplier of Coating Machine from last 25 years. High-quality Coating Machine available with different types of range. All type of High Speed Rotogravure Printing Machine Manufacturer and Exports all over the Globe
Standard Features
Heavy duty side M.S. steel walls to ensure vibration free running at high speed.
Foundation free base frame.
High velocity air blower for fast dying.
Good quality electronic input drives, motors, Tension Control System etc.
All free rollers are dynamically balanced.
Pneumatic functions for impression rolls.
Auto tension control.
Auto web aligner.
Careful quality control in manufacturing process to ensure years of maintenance free running.
Range of Coating Machines Like:
Silicon
Platinum
Gum Coating for sticker sheet
Paper
VMCH
PVDC
Pilot
DG
Technical Specification
Coating Machine
| | |
| --- | --- |
| Working Speed | 140 M/min to 200 m/min |
| Max. Web width | 600 / 800 / 1000 / 1200 mm |
| Unwind Roll Dai. | 600 / 800 mm |
| Rewind Roll Dai. | 600 / 800 mm |
| Drying Section | Multi-zone arch type |
| Heat Source | Electrical / Hot Air |
| Coating Section | Gravure / Reverse Roll |
| Laminating Section | Chilling / Heating Roller with Pneumatic Nip Roll |
| Drive | Variable Speed: DC/AC |
| Unwind / Rewind | Simplex / Duplex |
| | |
| --- | --- |
| Effective Laminating Width | 500mm ~ 3600mm |
| Max. Laminating Speed | 100 ~ 150mpm |
| Max. Mechanical Speed | 150m/min. |
| Diameter of Unwind / rewind | 0800mm |
| Diameter of roll core | 076mm |
| Coating Layer quantity | Two Layers (Once) |
| Drying Source | Electric / Thermic Fluid/ Diesel Hot Air System |
| Construction | Ribbed Anti Vibration Cast Iron (C.I.) Body. |
Video