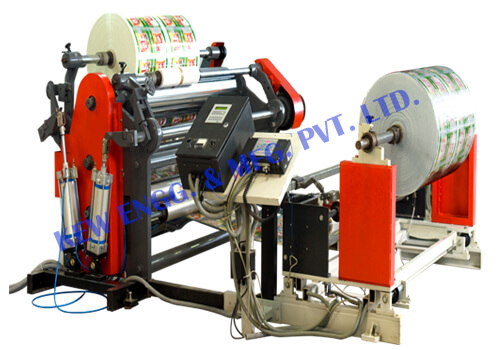 Heavy Duty Slitter Rewinder Machine, with high quality and hi-speed features manufacturer India. Jumbo type, and light-duty Slitter Rewinder Machine per custom application on Industry-specific requirement. Special application related slitting machine for different Industry and Materials. KEW Slitter Rewinder is a Cantilever Type which incorporates a range of superior design feature. We are focused to provide high-speed Slitting Machines to our client with desired cutting size. In addition That ensures the highest possible quality for the final split roll Independent rewind tension control through non-contact ultra-sonic techniques.
Rewinding tension control for diameter measurement and unique core lock for a differential slip at running speed. The design incorporates the three motor control system & unwind pneumatic brake with load cell feed brake Digital Edge/line guiding to achieve high-speed correction. Slitter rewinder machine manufacturer with web guiding system for materials like, LLDPE Stretch Film, Fabric, Paper, also opposite material then paper-like film, BOPP Film, OPP CPP Film Slitting Machine, Non Woven Fabric, METPET Film, another OPA Film with Heavy Duty and Light Duty features. Kew Engg & Mfg Pvt Ltd have been manufacturing high-speed machines with International Standard.
We have been successfully Manufacturing, Exporting & Supplying all types of Cantilever Slitter Rewinder Machine since last 25 years with more than 1400 installations all over India and overseas, therefore that makes us leader of slitting machine manufacturer, like Saudi Arabia, UAE, Dubai, Sharjah, South Africa, Nigeria, Ghana, Congo, Kenya, Zambia, Sri Lanka, Bangladesh, Malaysia, Pakistan, Nepal, Russia, Thailand, Indonesia, Brazil, Colombia, Venezuela, Argentina, Mexico, Canada, etc. We are the winner of 3 times National Award and 2 times the International Award for Quality manufacturing.
Standard Features
Jumbo type and Heavy Duty Slitter Rewinder Machine for various materials:
Plastic
Paper
PVC
Aluminum Foil
Stretch Films
Polyester Film
LDPE Film
BOPP Film
BOPP Tape
OPP CPP Films
METPET Film
PET Film
OPA Film M
Non Woven Fabric
Woven Sack
Paper Board
Adhesive Tape
Film Ribbon
Textile Cloth
Nylon Fabric
Micro Tape
Coated Paper
Ice Cream Cup Paper
Fax Roll Paper
Laminated Film
Cling Film
Technical Specification
Slitter Rewinder Machine
| | | |
| --- | --- | --- |
| Max. Working width | : | 800 to 2000 mm |
| Unwind Dia. | : | 1000 mm |
| Rewind Dia. | : | 500 |
| Min. Slitting width | : | 50 mm |
| M/C speed | : | 300 / 500 M / min |
Video