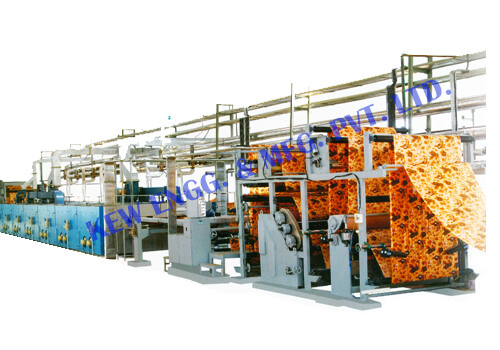 Standard Features
KEW ENGG. & MFG. PVT. LTD., offers high quality Hot Air Stenter Machine, all our Hot Air Stenter Machine works with quality features like, Automatic chain lubrication system, bow straightening system device and many more. Hot Air Stenter Machine manufacturer, exporter and supplier with premium quality of machines. Hot Air Stenter Machine with high quality equipment to meet international standard. We have been manufacturing, exporting and supplying heavy duty Hot Air Stenter Machine for Textile Industry from last 25 years. Also manufacturer of all type of Stenter Clips
Unique air flow system with individual blower for top bottom jet boxes four blowers chamber.
Air Flow Controlled electronically, no mechanical dampers.
High efficient drying zone gives higher production at lower operating costs (up to 30% power savings)
Working width available from 160 cm. to 380 cm. with complete automation.
Suitable for woven, knitted, upholstery, denim & non–woven fabrics, technical textile and Terry Towels.
Technical Specification
Hot Air Stenter Machine
| | |
| --- | --- |
|  CONTROL |  Control panel for the machine will be fabricated by 16 guage CRC finished with powder coating after defrosting procedure panel will be incorporated with the electric switch gears as per I.S. std of required capacity. |
|  DRIVE | The machine running with D.C. drive, main drive motor of padding mangle and Stenter are teps D.C. motors reduction gear box is coupled with the main motor of Stenter machine. |
|  FINISHING |  Machine will be finished with red oxide putty & primmer paint and finally with 3 coats of industrial paint. Optionally finished with powder coating process at extra coats. |
|  IMPORTANT NOTE | The length & width of the Stenter machine, no. of the chambers, HP. Of D.C. / A.C. motors varies according the buyers requirements operating manual wiring diagram of the control panel & foundation plan will be provided with the machine. We reserve the right to modify / alter the design / specifications without prior notice. |
Video