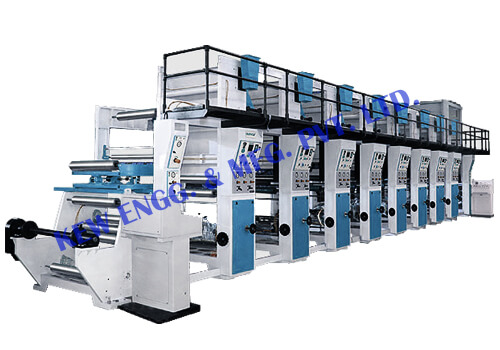 We have been manufacturing and exporting Rotogravure with Online Lamination with International Standard from last 25 years, India.
Standard Features
Heavy duty side M.S. steel walls to ensure vibration free.
Running at high speed.
Foundation Free Base Frame.
High velocity air blower for fast drying.
Vertical system for registration setting for quick results.
All free rollers are dynamically balanced.
Parents Reel dia 800mm max.
Pneumatic functions for Impression Rolls.
Auto Tension Control.
Auto Web Aligner.
High quality Rotogravure Online Lamination per client's requirement for different application with various range. We are a leading manufacturer of Rotogravure Online Lamination from last 25 years, India. KEW ENGG. & MFG. PVT. LTD.  have been manufacturing, supplying and exporting Rotogravure Printing Online Lamination with high quality and international standard equipment.  Rotogravure Online Lamination is highly used for lamination purposes in printing industries. We offer all ou Rotogravure Online Lamination Machine at economical rates, also it is in compliance with industry norms & standards also for international clients.
Technical Specification
Rotogravure Online Lamination
Web Width : 100 mm to 1500 mm
Maximum Weight of Unwind: 100 Kg to 1000 Kg (Different Models for different Weight)
Max Parent Reel dia.: 400 mm.
Max. Rewind reel dia.: 400 mm
Rewind Core Dia.: 76 mm
Motor: 2 HP DC motor / 2 HP AC motor (3 HP, 5 HP also available on suitable Model)
Max. Designed Speed: 100 to 150 Mtrs / min
Video