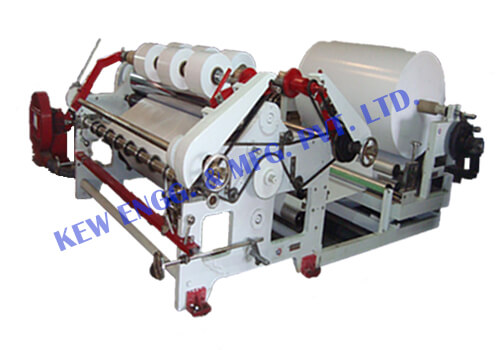 Many industries like paper mills and paper converters need to cut paper. Therefore, KEW ENGG. & MFG. PVT. LTD. manufactures heavy-duty drum slitter machine, drum slitting machines, Automatic Drum Slitting Machine, with efficient and timely delivery as per customer's requirements. This machine is made by us with new and best technology. This machine is used to cut all kinds of paper material like coated paper, ice cream cup paper, fax roll, photograph paper, stationery paper, etc. Slitter machine manufactured and designed in mild steel. In our heavy-duty drum slitter machine, the Diameter can be achieved up to 1200 mm.
Standard Features
Drum Slitting Machine
We can also design customized machines based on customers' requirements. We have been successfully manufacturing, exporting, and supplying all types of slitting rewinder machine from Ahmedabad, Gujarat, India for over 25 years, with over 1400 installations in global markets like Saudi Arabia, UAE, Dubai, South Africa, Nigeria, Ghana, etc. We have won 3 times National Awards and 2 times International Awards for quality products. For more details, you can send us an inquiry form or mail us or call us.
Technical Specification
| | |
| --- | --- |
| Web Width | 600mm To 2500 Mm |
| Unwind Dia | Up To 1000mm |
| Rewind Dia | Up To 600 Mm |
| Rewinding Type | Duplex Center Cum Surface |
| Unwind/Rewind Core | 3" Dia. I.D |
| Min. Slitting Width | 50 Mm |
| Machine Speed | 100 To 130 Mtrs/Min. |
| Roll Weight | 500 Kg |
| Guiding System | Pneumo Hydraulic Web Aligner |
| Unwind Tension Control By Means Of | Mechanical Brake |
| Rewind Tension Control By Means Of | Mechanical Clutch |
| Drive Mechanizom | Chain Wheel Arrangement |
| Drive | D.C Drive |
| Rubber Roll System | Both Rubber Roll Operate Mechanically |
| Blower Section | 1 H.P A.C Motor |
| Material To Be Slitt | Stretch Film, Plain Film, Printed Film, Paper, Label Stock, Laminates, Metallic Film, Allu. Foil Etc. |
Optional Attachments:
Auto Tensio Control For Unwind Unit
Web Edge Guide System (Line /Digital Ultra Sonic)
Pneumatic System For Arm / Cluch /Brake /Nip
Air Shaft For Unwind Station
Air Shaft For Rewinder Shaft
Four Motor Synchronised Drive
Extra Shaft For Smaller Size Of Core.
Slip Ring Device
Circular Knife Attachment.
| | | | | | |
| --- | --- | --- | --- | --- | --- |
|  PRINTING WIDTH OF THE MACHINE | 20 | 24 | 30 | 36 | 42 |
|  MAX WEB WIDTH | 22″ | 26″ | 32″ | 38″ | 44″ |
|  MAX CYLINDER DIA | 12″ | 12″ | 12″ | 12″ | 12″ |
|  MIN CYLINDER DIA | 4″ | 4″ | 4″ | 4″ | 4″ |
|  MAX PARENT REEL DIA | 24″ | 24″ | 24″ | 24″ | 24″ |
|  MAIN DRIVE DC MOTOR | 3HP | 3HP | 5HP | 5HP | 7.5HP |
Video