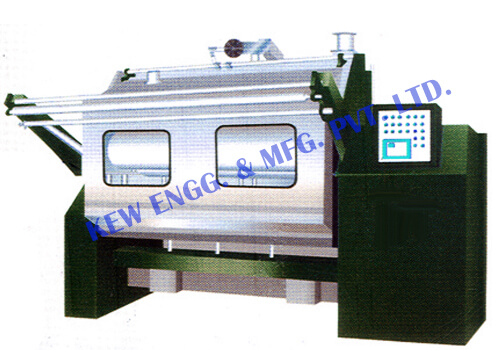 Standard Features
Main wall is made from vibration free M.S. Plate and its connected with M.S. Heavy duty channel.
Main 2(two) Nos. Draw Roll will be Manufacturer from Heavy duty M.S. Pipe with S.S. Kliting dia 305mm running in Heavy duty self- aligning ball bearings.
Break Drum will be 350mm dia and bush bearing type with best quality of Break Liner and braking arrangement.
SPRAY TUBES:- Connected with Supply Pump and placed on both the side of the Trough, Permitting a perfect working of the cloth.
Trough will be fabricated from 14 SNG S.S. Guide Rolls with the positioning rolls, Steam coil and sprays with over flow device and a water shut off to a avoid drain system without valve.
Differential Gear Box will have M.S. Main Body and ENB gear and Bevel type differential unit.
HEATING: Direct or indirect steam coils submerged in the liquor and also we provide Heat Exchanger made from best quality tubes, it is so design that it heats the dye liquor very fast.
BALANCING ROLLERS:- For an optimum processing of sum kinds of fabrics, We supply a set of lower able arms to accompany the cloth, With heavy duty S.S. Spring.
10 HP AC Electric Motor and AC Inverter Drive, Control Panel and automatic turns and passage with PLC + HMI.
Circulating Pump with S.S. Impeller.
Technical Specification
Semi Automatic Maxi Close Type Jumbo Jigger Machine
Slow Start/Stop
Trough is entirely built in stainless steel AISI 316
The Door of Machine pneumatically lifted & lowered
To observe inside of the Machine large windows are provided
The Doors and windows are sealed with special gasket against steam escape
To prevent dripping of condensate there are steam coils in the hood
Dye liquor circulation by means of pump this circuit is used for better leveled dyeing or switching the flow on the spray pipes for more efficient washing or raishing
Dye liquor filter outside the machine with large filtering surface
Service Tank For dye stuffs and chemicals
Semi or Fully Automatic with Microprocessor [On Request]
Video