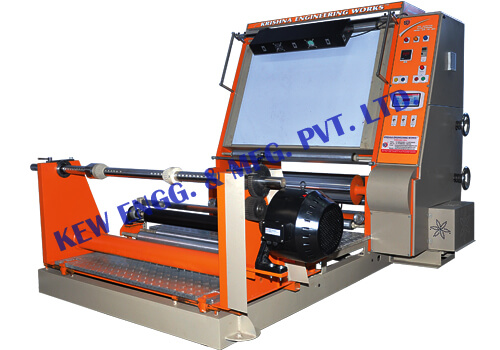 We are the manufacturer, exporter, and supplier of Inspection Rewinding Machine. Our used majorly for checking of badly printed materials on Rotogravure Printing, Flexo Printing Machine, Batch Printing on Doctoring Rewinding Machine, etc. Inspection Rewinding Machine with advanced feature like adjustable slitting assembly and much more per client's requirement. Various types of inspecting materials on the Inspection Machine like Film, Label, Fabric, and Woven.
Standard Features
Line Guide System for Electronic Edge Sensing for Perfect Winding
Air Shaft at Unwinder & Rewinder
Tension Control System for Auto Tension at Unwinder.
Reverse Forward System
Stroboscopic Equipment for Inspection
Techno Feed System to keep speed constant from start to end of roll
Encoder for Inkjet Printer
High Capacity Blower Fan with Heater (800W) attached to facilitate quick drying of Ink Slitting Arrangement
Our specially designed to meet the standards that effectively meet the clients requirements for Inspection and slitting Machine. All our Inspection Rewinding Machine is used highly for checking and for inspection of bad printed materials on Rotogravure Printing Machine, Flexo Printing Machine, Batch Printing. To inspect Machine printed PET/BOPP and other flexible materials before lamination to control the wastage of other substrates.
Un-winder and Re-winder drives are of Digital AC/ Servo.
Both drives are suitable for forward & reverse direction application
Both drives are suitable for encoder feedback.
Both drives are suitable for synchronization with common synchronizer unit.
Unwind web guiding system is provided with heavy duty travelling trolley
Air shafts are provided for easy & maintenance free operation.
Technical Specification
Inspection Rewinding Machine
| | |
| --- | --- |
| Web Width | 500 mm to 1500 mm |
| Maximum Weight of Unwind | 100 Kg to 1000 Kg (Different Models for different Weight) |
| Max Parent Reel dia. | 600 mm to 1000 mm |
| Max. Rewind reel dia. | 600 mm to 1000 mm |
| Rewind Core Dia. | 76 mm |
| Max. Designed Speed | 100 to 150 Mtrs. / min |
Video