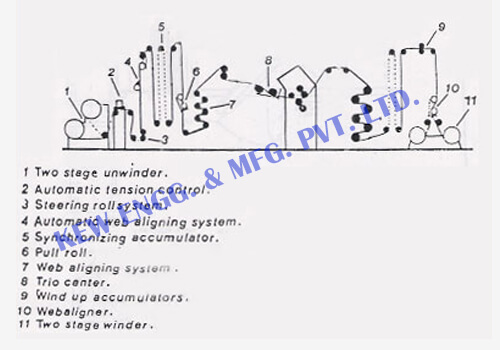 Equipments Calendering Plant is used for any winding & unwinding application for guiding the web to reduce the wastages of the material & to get high production output with minimum man power.
Standard Features
Equipments Calendering Plant
Equipments for Calendering Plant, Our company mainly engaged in the production of the machinery of Calendering Plant. Calendering Plant is designed to shape proper type of material. Generally, material is passed through a series of gaps of decreasing size made by a stand of rotating rolls. Each Rollers designed for high quality and accurate thickness per requirement. Rubber sheet thickness determined by final roll gap. Rubber Roller for Tire Cord Machinery and Textile machinery spare parts.
Two Stage Unwinder
Fully Automatic Tension Control
Steering Roll System
Automatic Web Aligner System
Synchronizing Accumulators
Pull Rolls
Web Aligner
Accurate Trio Canter
Wind Up Accumulators
Web Aligner Systems
Accurate Two Stage Winder
Technical Specification
Technical Specification of Equipments Calendering Plant:
Completely manufactured from Vibration Free Heavy duty Channel Angle Stand.
Mechanical Break Joint with Hydraulic Cylinder.
Stand with bottom side Both the side M.S. Heavy Plate with support, Tie-Road, Guide Rollers.
Top side M.S. Plate for Fixing the Safety Chucks.
Complete in all respects and putting the same in perfect working condition suitable for your Fabric Rewinder Machine and load capacity up to 2 Tons (2000 KGS.).
Video