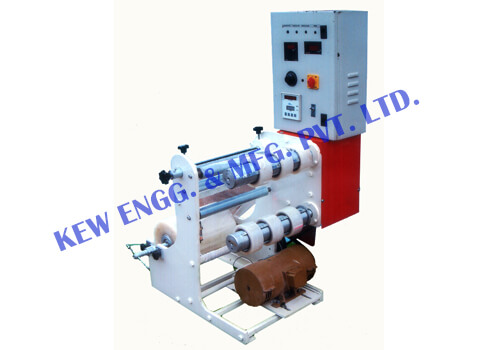 KEW ENGG. & MFG. PVT. LTD. dealing on manufacturing and exporting BOPP Slicer Machine from India. A genuine specialized supplier of BOPP Slicer Machine. We are manufactures, exports & supplies Core Cutting Machine for cutting of paper core. Our machines are designed with wide range of quality for long lasting heavy duty process, specially for cutting in different sizes from 12 mm to 1000 mm. All type of Tape Cutting Machine, BOPP Tape Cutting Machine Manufacturer with heavy duty and high speed features.
We are dealing on different types of Slicers with high quality equipment for Slicer Machine, Duplex Shaft Slicer Machine and Slicer Machine log Roll. All Slicer Machines designed especially to meet International standard and user friendly.
Standard Features
BOPP Slicer Machine
KEW ENGG. & MFG. PVT. LTD. India, a leading manufacturer, exporter and supplier of different types of BOPP Slicer Machine:
Slicer Machine
Duplex Shaft Slicer Machine
Slicer Machine log Roll
We are having rich industrial experience from last 25 years, we are offering an heavy Slicer Machine. The machines offered by us consist of superior quality parts that are made using high quality hardened and tempered steel. We also deal on custom Bopp Tape Machine as per customer's requirements and application. The BOPP Tape Cutting Machine that we offer is one of its kinds and cannot be matched in terms of quality, durability and performance.
Basic Features:
High Hardness, toughness and sharpness
High Durability
Sturdiness
User Friendly (Easy to use)
High performance
Reliability
High quality
Standard equipment
Heavy Duty
Technical Specification
Maximum Width : 60″
Electric motor : 2 H.P. A.C.
Mini Type BOPP Tape Slitting Machine Size- 300MM Working
BOPP Tape Machine with heavy duty equipment
With 1 HP Electric Single Phase D.C Motor With Control Panel & Counter Meter.
Max. Jumbo Roll Size; 1000 mm
Max. Unwinder Roll Dia: 14'
Max. Rewinding Roll: 65 Mtr.
Slit: 12 mm Onwards.
Video