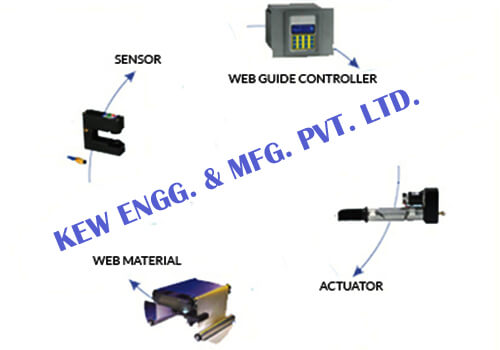 Standard Features
Types of Guiding Solutions:
1) Edge Guiding
The most popular type of web position control includes to achieve a desired edge alignment of film at various stages of process. Such a system is especially useful for flexo printing, gravure printing, extruders blown film plant, extrusion laminate, slitting machine etc. Web Guiding System Manufacturer for Different type of Machines.
2) Chaser Guiding
Guiding Solution Manufacturer, One another type of web position control includes chasing one or two webs to a reference web to achieve the desired edge alignment of multiple layers. This is done by either mechanically or electronically slaving two or more sensors. Such a setup is useful for lamination process.
3) Center Guiding
Guiding Solution Manufacturer Exporter and Supplier. Center guiding application may involve either fixed or moving sensor system. The guide system keeps the center line of the web in an exact position. In case of Moving sensor center guiding the sensors continuously reposition themselves automatically to detect both web edges and maintain the center line of the web in an exact position irrespective of any width variation.
4) Line Guiding
This system uses a printed line or continuous patch or any pattern on the web. The system maintains the chosen mark (printed line or pattern) in exact lateral position irrespective of the web edge position. This system is widely used in slitting machine.
Instruction:
Normally, Pneumo-Hydraulic Web Guiding System is used for any winding & unwinding application for guiding the web to reduce the wastages of the material & to get high production output with minimum man power.
Now, seeing the emerging demand of the market & few limitations of Pneumo-Hydro Web Guiding System, we have introduced Micro-processor based fully Electronic Line/Edge Guiding System with Photo-Cell Feed Back.
This has specially application on Slitter Rewinder Machine to slit any material like Laminates, Plain or Printed Polyester or other material. Photo-Cell will sense the color, Line or Edge Guide according to your requirement & you will get the uniform slitting.
PMDC Motor is used for forward-reverse movement of the trolley and it is coupled with Ball Screw arrangement for better accuracy. Trolly (Guiding Assembly) is provided on unwinder of slitting machine & it is guided by Linear Bearing Arrangement.
On our Controller Two Digital Settings are provided for light & dark color settings. Auto / Manual mode is also provided along with left & right movement of the material. Servo Center is provided through Limit Switch.
Photo-Cell will sense the line or edge of the material & accordingly it will give reference to the motor for forward or reverse movement.
ELECTRONIC CONTROL FEATURES:
Position Control System.
Adjustable track control with deviation display.
The LED emission sensing offering the possibility of operating on all contrast & backgrounds, presenting different surface treatments.
Ultra sonic edge sensing or op to electronic sensing.
High response motor powered actuator.
Proximity switch provided for automatic end travel limits.
OPTO ELECTRONIC LINE OR CONTRAST SENSING SYSTEM:
The LED emission sensing offering the possibility of operating on all contrasts, with an operating distance of 9 mm max. Between sensor and web. Fast response time insensitive to ambient light.
Technical Specification
Guiding Solution
Guiding Solution for Different Machines and Industry
Air Turner Bar Systems are designed and manufactured to suit customers' particular application. There are six sizes for 90° entry or 180° turnover, with web widths ranging from 100mm to 3 meters, for horizontal or vertical mounting.
The units are built as freestanding or bolt-on modules, complete with leveling braces and bolting down holes. They are designed to suit existing machine and site conditions.
The framework is rectangular hollow section with specialized corner bracing incorporating the fine adjustment mechanism and mounting for the Turner Bars.
Bars are tubular steel with bell mouth air holes, ground, polished and hard chrome plated. Air blow creates an air film assist to the bar.
By choosing appropriate mounting positions, a variety of configurations can be obtained to enable a choice of entry and exit requirements.
Path rollers are normally aluminum, statically or dynamically balanced.
Air for flotation requires 5 CFM per 100mm web width at 10ins to 18ins W.G. depending on web tensions.
Fans direct mounted on each Turner Bar can be supplied at the time of manufacture (option). For narrow web widths and special applications air flotation holes can be reduced for using compressed air or arranged as required.
Video