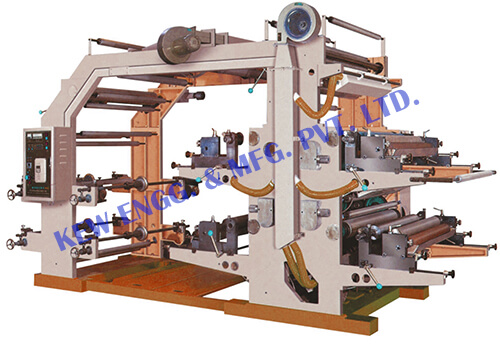 Standard Features
Flexo Printing Machine manufacturer, Our Flexo Printing Machine available in various sizes like: 18″, 20″, 22″, 24″, 26″, 28″, and 30″ in Four & Six Colors.
We have always readily available Printing Rollers with Gears for all sizes of Rubber Roll and doctor blade pneumatically or manually.
Tension controller Flexo Printing Machine designed with Motored registration control and many more features
Also, all type of high speed Rotogravure Printing Machine Manufacturer. We are winner of 3 times National Award and 2 times International Award for Quality manufacturing. For Flexo Printing Machine, we have processed all types of material like Paper, Non-Woven, HDPE, PP, Woven Sack, LD, BOPP, etc.
Technical Specification
Flexo Printing Machine
High Printing speed to meet high – volume orders Precise Printing quality for superior reproductions Simultaneous two job Printing for more productivity, Energy saving for Lower operational costs Easy operational that saves labor.
Registration Accuracy Strong and rebuts structure for Zero vibrations Quick Loading of Print Cylinders to minimize downtime Auto stop for Web Heater Thermostat for Power saving Helical Gears for Smoother movement Hard Chromed Anilox & Cylinder Rollers for Sharper Images Digital Counter Duplex System with to unwind and rewind stations to run two jobs at the same time Reveres printing – 1+5 or 2+4 or 3+3.
Web Width Size
20″ Web Width
24″ Web Width
30″ Web Width
Max Printing Width
18″

22″

28″
Print Repeat Min
8″
8″
8″
Print Length Max.
36″
36″
36″
Printing Speed
0 – 60 Mts/Min.
0 – 60 Mts/Min.
0 – 60 Mts/Min.
Max. Parent Dia.
30″
30″
30″
Main Drive Motor
3 HP D.C.
3 HP D.C.
3 HP D.C
A.C. Motor Blower
3 HP D.C.
3 HP D.C.
3 HP D.C.
Heating Load
13.5 kw
13.5 kw
kw
Floor Space Required:
Length
5.5 Mts
5.5 Mts
5.5 Mts
Width
1.5 Mts
1.5 Mts
1.5 Mts
Height
Mts
3 Mts
3 Mts
Weight (Approx.)
3200 Kgs
3200 Kgs
3200 Kgs
Video