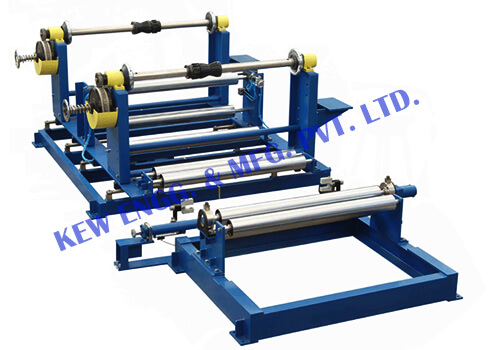 KEW ENGG. & MFG. PVT. LTD. dealing with manufacturing and exporting Rewinder Unwinder from India. A genuine specialized supplier, Rewinder Unwinder Manufacturer India. We are manufactures, exports & supplies Rewinding Machine, Winding Machine for the packaging industries. Our machines are designed with a wide range of quality for long lasting heavy duty process, especially for cutting in different sizes from 12 mm to 1000 mm.
High-quality rewinder and unwinder together for the heavy-duty process. Different types of Rewinders and unwinders for label, continuous label materials offer the processing of label rolls with large outer diameters with the high-speed process. All our Rewinder Unwinder units designed with features like user-friendly and multifunctional for different types of Roll form. Our label rewinders and unwinders are suited for inside and outside winding label materials.
Standard Features
Rewinder Unwinder
KEW Manufacturers, exports & supplies Rewinder Unit with high production output & efficient web aligner function with more than 2500 installation in place all over India and overseas like Saudi Arabia, UAE, Dubai, Sharjah, South Africa, Nigeria, Ghana, Congo, Kenya, Zambia, Sri Lanka, Bangladesh, Malaysia, Pakistan, Nepal, Russia, Thailand, Indonesia, Brazil, Colombia, Venezuela, Argentina, Mexico, Canada, etc. making us the biggest manufacturer, exporter & supplier of Rewinding Machine.
The Rewinder Machine is available with:
Web Aligner System
Mechanical or Pneumatic Brake
Tension Control System
Line Guide System
Rollers
Safety Chucks
Bow Roller
Unwinder Drive & Control Panel (Optional)
Shaft less Unwinder Unit
Technical Specification
Rewinder / Unwinder
Single side coated fabric / tissue tapes
Masking tape
Protection tape
Video